Venture Builder
PROVIDING CAPITAL, ACTIVE MARKETING, TECH, OPERATIONS
AND STRATEGIC DIRECTION TO INDUSTRY DISRUPTING STARTUPS
b.labs is a company building engine that invests in and incubates a diverse set of startup ventures with defensible intellectual property and ultra-scalable growth potential.
b.labs is anchored by a reputable, global consulting agency – Blueliner – which provides strategy, tech, marketing and operations infrastructure to its portfolio ventures.
METHODOLOGY
What makes our lab unique?
TALENT.
The combination of talent with demonstrated success, at staff, management and Board levels – in both prior business lives and as a collective team. Being smart is one thing – and we have some of the brightest minds around working with us; but more than that, we work hard, all hours of the day and night – whatever it takes to solve business challenges and get things done.
INTERNAL AGENCY.
Building the startups around an Internal Agency Engine, which has the experience and know-how to support new business launches and avoid common startup pitfalls
INVESTMENT DIVERSIFICATION.
Diversification across several emerging industries, as well as by company stage – including two already profitable companies.
INFRASTRUCTURE.
All b.labs offices – New York, New Jersey, San Francisco, China, etc – offer infrastructure and support services to portfolio ventures and global staff, which currently stands at 31 professionals.
MVP DEVELOPMENT.
b.labs will make small infusions into concepts, before full funding, to develop MVPs (Minimum Viable Products).
ACTIVE INVESTOR ENGAGEMENT.
Investors receive detailed monthly updates directly from b.labs leadership, as well as quarterly financial reports, bi-annual conference calls and an annual shareholder appreciation event.
MARCH FORTH!
Arman Rousta
With 20+ years of startup and business ownership experience, Arman Rousta is a developing thought leader and serial entrepreneur that knows what his true genius is – the creation of new paradigms and business models.
In 2001, he founded Blueliner Marketing headquartered in New York City. Arman is the creator of the 7 Pillars of Digital Marketing system, and author of the seminal work on this topic, by the same title. He is also the inventor of Timebug, a Personal Intelligence App and Life Management System.
Arman was an Academic All-Ivy League student-athlete at Columbia University.
SEE CHANGE!
About David
David Houle is one of the world's leading Futurists. He is an accomplished author, speaker and entrepreneur, having given speeches to over 300 executive audiences worldwide over the past 5 years. He helped launch the following brands – MTV, Nickelodeon, VHI, CNN Headline News. He has also won a Peabody and been nominated for two Academy Awards. He has been a vital mentor to Arman since 2001.
David's current focus is The Spaceship Earth, a climate change initiative geared towards raising awareness and inciting positive action from all of the planet's "crew members".
As Futurist in Residence with b.labs, David's role is to provide high-level strategy and advice on macro-economic trends that may impact portfolio companies, as well as insights into potentially lucrative new industries.
TEAM
CORE TEAM – Timebug & 7 Pillars
Conor Dalton
Conor is an experienced Marketing Professional with a strong background in financial services, professional services and agency related projects. In 2015, Conor relocated to New York from Europe in order to follow his ambitions of working with the most exciting projects and ambitious people the world of business and marketing had to offer. Since then, Conor has led a large portion of Blueliner's core agency work and become an integral contributor to both the 7 Pillars and Timebug systems. Conor is a former professional musician, in both classical and contemporary styles.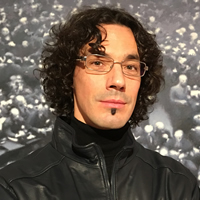 CORE TEAM – Timebug & 7 Pillars
Eduard Balaz
Eduard is a graphic designer and new media artist with a strong cross-media knowledge that merge art with information-based design in an innovative way. He has over 15 years of design experience in the Advertising Industry, and 20 years of artistic practice. In 1999, Eduard co-founded Urtica art group, which exhibited internationally and won the prestigious UNESCO Digital Arts Award at the Institute for Advance Media Art and Science in Japan. The World's largest online workplace, Upwork, awarded him The Best Freelancer in Serbia 2015 in the category of Design & Creative. Striving for a more challenging work, Eduard has begun contributing to Blueliner's team environment, where he brings integrated design solutions that merge Branding, UI/UX Design, Concept Development, Data Visualization and Iconography. Eduard holds a B.A. in painting from Academy of Arts Novi Sad, and a M.A. (Magister of Arts) in digital art from the Faculty of Fine Arts Belgrade, Serbia. He received the Research Fellowship Award from Rhode Island School of Design in 2004.
CORE TEAM – Ajustco & AjustLock
Juliet Ye

Juliet manages a diverse group of product and packaging development specialists and is a leading force behind Ajustco's China Operations. From putting together detailed Bill of Materials statements, to managing procurement to overseeing product QA testing, Juliet works with in-house and vendor staffers to deliver the goods on time. Presently, Juliet is overseeing the development and opening of Ajustco's own factory, in order to reduce dependencies on third party manufacturers, and take more control of the production and QA process. Juliet visits the U.S. from time to time, in order to get a better understanding of the "other side" of the supply chain, and to connect with buyers from major retail chains like Home Depot.
CORE TEAM – 7 Pillars & Blueliner
Soribel Fernandez
Soribel brings over 10 years of experience in international business. Before working at Blueliner, She was the International Relations Manager for the 2003 Pan American Games celebrated in Santo Domingo, where she was the liaison between 13 sports delegations and over 700 athletes from different countries, including Brazil and Mexico. In 2006, she joined a US-based company as the International Marketing manager and was responsible for customers in Latin American as well as Europe, like Spain, Turkey, Paris, Germany, Ireland, and Italy. In 2010, Soribel joined Rainbow Shops, where she managed 130 stores in Puerto Rico and helped with the logistics and planning process for the company's website. Soribel is committed to delivering great service and addressing each customer's needs and requests as unique. She enjoys the fast-paced, entrepreneurial work environment at Blueliner and is a consummate team player, and brings a multitude of skills to the team, including process organization, logistics, forecasting, planning, and international business relations. Soribel has a Bachelor's degree in Marketing, Magna Cum Laude, 1997- Universidad Apec, and a Masters in International Business Administration, 2001 – Instituto Tecnologico de Santo Domingo, Dominican Republic.
b.labs is pleased to offer accredited investors the opportunity to invest in its portfolio. We are currently accepting a limited set of investors. Investments may be made into b.labs (the holding company) AND/OR directly into one or more of the portfolio companies. A prerequisite for portfolio venture investment is for at least 50% of an investor's capital allocation to be made into the holding company.
The two mature companies within the b.labs portfolio (Blueliner and AjustLock) are both profitable and expect to generate revenues in the millions in 2017; with the other four initiated ventures (The Advocator, 7 Pillars, Timebug and Ajustco) beginning to add revenues, but likely operating with losses (to be expected for early stage startups) for the year.
* This website and the related investment and verification platform (together, the "Website") is intended for "U.S. persons" only (as defined in Rule 902(k) promulgated under the Securities Act of 1933, as amended). The Website and the material contained therein does not constitute an offer to sell or a solicitation of interest to purchase any securities or investment advisory services in any country or jurisdiction in which such offer or solicitation is not permitted by law. For purposes of such Rule 902(k), "U.S. person" means:
Any natural person resident in the United States;

Any partnership or corporation organized or incorporated under the laws of the United States;

Any estate of which any executor or administrator is a U.S. person;

Any trust of which any trustee is a U.S. person;

Any agency or branch of a foreign entity located in the United States;

Any non-discretionary account or similar account (other than an estate or trust) held by a dealer or other fiduciary for the benefit or account of a U.S. person;

Any discretionary account or similar account (other than an estate or trust) held by a dealer or other fiduciary organized, incorporated, or (if an individual) resident in the United States; and
Any partnership or corporation if:
Organized or incorporated under the laws of any foreign jurisdiction; and

Formed by a U.S. person principally for the purpose of investing in securities not registered under the Act, unless it is organized or incorporated, and owned, by accredited investors (as defined in Rule 501(a)) who are not natural persons, estates or trusts.
The following are not "U.S. persons":
Any discretionary account or similar account (other than an estate or trust) held for the benefit or account of a non-U.S. person by a dealer or other professional fiduciary organized, incorporated, or (if an individual) resident in the United States;

Any estate of which any professional fiduciary acting as executor or administrator is a U.S. person if:

An executor or administrator of the estate who is not a U.S. person has sole or shared investment discretion with respect to the assets of the estate; and

The estate is governed by foreign law;

Any trust of which any professional fiduciary acting as trustee is a U.S. person, if a trustee who is not a U.S. person has sole or shared investment discretion with respect to the trust assets, and no beneficiary of the trust (and no settlor if the trust is revocable) is a U.S. person;

An employee benefit plan established and administered in accordance with the law of a country other than the United States and customary practices and documentation of such country;

Any agency or branch of a U.S. person located outside the United States if:

The agency or branch operates for valid business reasons; and

The agency or branch is engaged in the business of insurance or banking and is subject to substantive insurance or banking regulation, respectively, in the jurisdiction where located; and




The International Monetary Fund, the International Bank for Reconstruction and Development, the Inter-American Development Bank, the Asian Development Bank, the African Development Bank, the United Nations, and their agencies, affiliates and pension plans, and any other similar international organizations, their agencies, affiliates and pension plans.